EVENT RESULTS
​
​
​
​
​
SAVE THE DATE
SATURDAY
FEB 11TH 2023
MOSAIC PLACE, MOOSE JAW
​
Every second of the Best of the West Cheer and Dance Championships experience is designed to make each and every athlete feel like all the sacrifice and practice has been worth the effort. From the professional lighting to the huge digital screens, Best of the West is fun, full of energy and makes each athlete come off the floor feeling like rockstars
Best of the West Cheer and Dance Championships is a single day event jam packed with over 1450 athletes from across western Canada. Best of the West offers school, all star, demo, dance and specialty cheer divisions. Teams will have either a single run or two runs (depending on division) to see if they have what it takes to take home the prestigous Western Canadian regional title as "Best of the West".
Best of the West Cheer and Dance Championships is a USASF/IASF Cheerleading Worlds Qualifying event in addition to the new major event Canadian Finals. Best of the West offers one Partial Paid ($5,000) and two At Large bids for Worlds. Level 1-4 team are eligible to qualify for the Canadian Finals. There are only 30 teams from Canada eligible to compete for the coveted title!
Best of the West Cheer and Dance Championships is owned by the Saskatchewan Cheerleading Association (SCA) and will be using SCA Judging. Click here for more information on scoring and rules. All Saskatchewan teams are required by the SCA to be current SCA members. Out of province teams must show proof of insurance to the event provider prior to competing.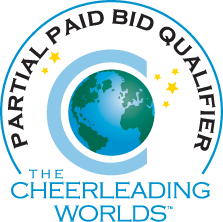 To register, fill out the registration form and send it in along with payment to the address indicated within the form. You may also scan and email us the registration form. Your registration will not be considered complete until payment arrives. Dates are verified by post office date stamp or date email is received
REGISTRATION DEADLINE:
Jan 7th, 2023
REGISTRATION PACKAGE (TBA)
CROSSOVER POLICY
Crossovers are athletes who compete on one or more teams under your school or organization. At Best of the West Cheer and Dance Championships we have each athlete pay on a per team basis. Each athlete pays the athlete registration fee for each team they participate under your school/organization.
CANCELLATION POLICY (DATES TBD)
If your team needs to cancel their performance for an event please contact the Best of the West Cheer and Dance Championships office immediately. There is a non-refundable administrative fee of $75.00 per registered team. The following schedule will be used when determining the refund awarded for the remaining registration fee after the $75.00 administrative fee has been subtracted.
01 / Written request 10 weeks (Dec 3rd, 2022) prior to the event: 100% of remaining registration fee.

02 / Written request 8 weeks prior (Dec 17th, 2022) to the event: 75% of remaining registration fee.

03 / Written request 5 weeks prior (Jan 7th 2023) to the event: 50% of remaining registration fee.

04 / Written request within last 5 weeks (Jan 7th 2023 onward): No refund of registration fee.
Refund will not be awarded for the cancellation of individuals due to the volume of participants. Substitutions may be permitted at no additional cost.
​
LATE REGISTRATION POLICY
If you have missed the registration deadline but wish to register you must first request a late registration. Upon approval you will incur a late registration penalty of 20% to the per athlete registration rate. (example: $50/pa regular rate would become $60/pa late rate)
​
Best of the West Cheer and Dance Championships is proud to work alongside Visit Moose Jaw. Through their membership of hotels, you will be able to find the accommodations that fit the needs of your team(s) and those traveling with you. When you are booking your accommodation, please ensure to let us know the details of your stay: which member hotel, how many rooms and how many nights. Having this information allows Best of the West to better serve you, so thank you for your cooperation!
PARKING WILL BE A CHALLENGE WITH THIS FACILITY
SEE ATTACHED PARKING INFO FROM MOSAIC PLACE
(NOTE: AVOID PARKING IN STORE PARKING LOTS AS THEY ACTIVELY TOW VEHICLES)
Contact information below
Best of the West Cheerleading
C/O: Sask Cheer Association
7130 Maple Valley Cres.
Regina, Sask, S4X 0B2
Please fill your contact details below